1 May 2020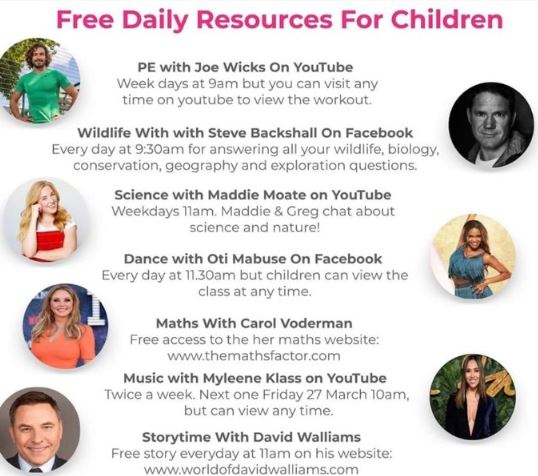 Hi Class 3,
Hope you have had a fantastic weekend.
Here is your home learning for Monday and Tuesday - this will also be posted on Google Classroom.
Please send in photos of your work, or turn in the assignments on google classroom - will be fab to see what you have been up to!
Maths

English

Topic

Maths Year 5

Monday

Complete 1 Fluent in Five arithmetic set daily.

Week 5 – test 1

(Mark with your parents and talk through ones where you have made mistakes)

Complete one rapid reasoning

Week 5 – Test 1

(Answers are available)

Follow the below link for today's maths lesson:

https://whiterosemaths.com/homelearning/year-5/

Summer Term – Week 3

Lesson 1 - Multiply 2-digit numbers (area model)

– Watch the PowerPoint

2 – Work through the task

3 - The answers are available for you to check your work

Tuesday

Complete 1 Fluent in Five arithmetic set daily.

Week 5 – test 2

(Mark with your parents and talk through ones where you have made mistakes)

Complete one rapid reasoning

Week 5 – Test 2

(Answers are available)

Follow the below link for today's maths lesson:

https://whiterosemaths.com/homelearning/year-5/

Summer Term – Week 3

Lesson 2 - Multiply 4-digits by 2-digits

1 – Watch the PowerPoint

2 – Work through the task

3 - The answers are available for you to check your work

Maths Year 6

Monday

Complete 1 Fluent in Five arithmetic set daily.

Week 5 – test 1

(Mark with your parents and talk through ones where you have made mistakes)

Complete one rapid reasoning

Week 5 – Test 1

(Answers are available)

Follow the below link for today's maths lesson:

https://whiterosemaths.com/homelearning/year-6/

Summer Term – Week 3

Lesson 1 - Simplify fractions

1 – Watch the PowerPoint

2 – Work through the task

3 - The answers are available for you to check your work

Tuesday

Complete 1 Fluent in Five arithmetic set daily.

Week 5 – test 2

(Mark with your parents and talk through ones where you have made mistakes)

Complete one rapid reasoning

Week 5– Test 2

(Answers are available)

Follow the below link for today's maths lesson:

https://whiterosemaths.com/homelearning/year-6/

Summer Term – Week 3

Lesson 2 - Compare and order fractions

1 – Watch the PowerPoint

2 – Work through the task

3 - The answers are available for you to check your work

English – Year 5

Warm Up –

Complete one Grammar Warm Up

Talk for Writing Book (PDF)

Year 5 = Rhi-swano-zeb-tah workbook

Page 4 – Read Where the Wild Things Are – stimulus (link available)

Page 5 – Look and listen to the new creation made by the explorer

(Link available)

Page 6 -7 Read the information text

Complete the activity on page 8

Complete the word exploration on page 9

Compete the activity on page 10 – example / non example

Complete fill the gaps on page 11

Complete review learning on page 11

STOP HERE

English – Year 6

Warm Up –

Complete one Grammar Warm Up

Talk for Writing Book (PDF)

Year 6 = The City of Silence

Introduction and Game – Page 4

Activity 1 - 6

Guided Reading Year 5 and 6

Independently read a chapter of your own book and write a summary for the chapter.

Complete a reading revision mat –

Year 5 – To Whoever Finds this

Year 6 – Tim D'Rella

Spellings for Friday:

Geography

Our new topic for this term is Trade.

Lesson 4 – Investigating Fairtrade

Work through the provided PowerPoint.

Your Task:

Create a poster using the template provided Why Pay More?

Write the reasons why people should pay more for fairtrade products and the positive impact of buying fairtrade products on people in developing countries.

Illustrate your poster with pictures of different fairtrade products (five from the price comparison

table- football, chocolate, gold ring, roses, face cream) linking your source location the correct

location on the world map.

PE -
Mr Challinor has set us some more challenges:

https://mailchi.mp/3379a8a38383/draft-of-school-games-newsletter-2782605

Computing:

(All about keeping safe online)

Follow this link

https://www.thinkuknow.co.uk/parents/Support-tools/home-activity-worksheets/8-10s/

The above should show:

There are 3 work packs to support your learning at home.

Art:

Zentangle Art

A teacher has shared this art idea online – it looks fantastic. Have a go and upload any of your challenges.

(DO NOT TWEET THE TEACHER MENTIONED IN THE INTRODUCTION)

Additional Learning Opportunities:
Class 3 - Home Learning - Week 5 - Monday and Tuesday
Looking after our mental health during these uncertain times:
Support for parents
https://youngminds.org.uk/blog/talking-to-your-child-about-coronavirus/
https://youngminds.org.uk/blog/looking-after-your-mental-health-while-self-isolating/
http://www.incredibleyears.com/parents-teachers/articles-for-parents/
Posted by Harriet Jennings
Category: Class 3 School Closure