7 January 2020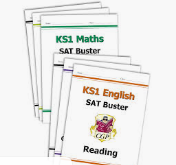 Year 2 children will be bringing home an English and Maths CGP book this week. These books consist of 10 minute tests that help the children to prepare for their SATS in May. Can you please ensure that these books are in the children's book bags every day.
Please find a timetable showing a week by week breakdown of which tests to do when.
Thank you for you continued support Mrs Wilkes.
SATS Practice
Posted by Sally Stretton
Category: Class 1